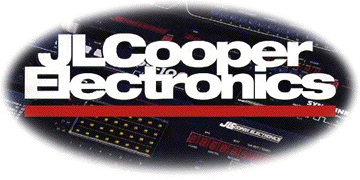 JL Cooper Products From Videobotics.com

JL Cooper is famous for manufacture of the highest quality and most innovative device control products, for video, audio, and MIDI applications.
Videobotics.com is a fully authorized dealer for all JL Cooper products and we present here two specific JL Cooper advanced systems that are especially well-suited to our professional video production customers' needs.
Call for other JLCooper products like MCS3 and more.
---
MCS3000 Family Jog-Shuttle Controller/Auto-Locator For RS422 Pro VCRs

Super VCR control with the MCS3000 family that can read LTC time code right from your deck and display on its own LED readouts, memorize up to 100 locate-points on your tape, and then auto-locate to those points at any time. Perfect for use with *any* NLE system to pre-configure your tapes for digitizing footage into the NLE, such as NewTek's Video Toaster for WinNT. Works with RS422-controllable pro VCRs and LTC timecode.
Model pictured here is the MCS3800.
Complete with one RS422 control board for $2449.95 (additional RS422 hookup option - $199.95).
Call for MIDI/Audio fader and other options.
BIGGER picture
---
FaderMaster Professional Midi Controller for AVID XPress2.0 and AVID Media Composer 7.0 and more

Eight fader sliders with 100mm throw - greatly simplifies and automates MIDI mixdown on multiple tracks. Fully programmable for control of volume, panning, EQ, digital effects, and many other parameters. Designed for use with AVID Technology's video editing systems and it also works great with MIDI sequencers, hard disk recorders, MIDI-controlled mixers, synths, samplers, and signal processors. With 20 programmable banks for storing configurations and 50 presets for controlling synths and signal processors.
Only $599, complete. Multiple units may be ganged to created larger extended fader sets.
BIGGER picture
FaderMaster Professional (TM) is engineered for the audio or video professional involved with automation or digital audio recording. FaderMaster Pro is the next generation universal MIDI controller. You can easily control, mix and edit with MIDI sequencers, hard disk recorders, MIDI-controlled mixers, synths, samplers, and signal processors and most recently, a variety of computer based video editing systems from AVID Technology Inc.
Professional Automated Mixdown System
FaderMaster Pro (TM) MIDI Automation Controller provides the hands-on, tactile control you've been missing from your digital audio or MIDI system. It features high-quality 100mm long-throw faders. These smooth tracking faders give you precision control of your audio mix. FaderMaster Pro eliminates the aggravation encountered when using a keyboard or mouse to mix or edit the volume of multiple tracks. And it is fully programmable, for controlling volume, panning, EQ, digital effects, and many other parameters.
And if eight faders and buttons are not enough, multiple FaderMaster Pro units can be linked to form a larger console.
FaderMaster Pro has 20 programmable banks for storing controller configurations, plus, 50 Factory Presets for controlling Synths and Signal Processors.
FaderMaster Professional Features
Eight Programmable High-Quality
100mm Faders
Eight Programmable MIDI Buttons
1/4" Footswitch and Foot Pedal Inputs
Internal Grouping, Scaling and End
Point Adjustments
Multiple Units can be Linked Together
Lithium Battery Backed RAM
More than 50 Factory Presets
All Metal Construction
Compact Design
12.25" x 6.75" x 1.5"
Weight - 7 lbs.
Call any time for pricing and ordering: 805 349 1104, 10AM to 5PM, M-F (West Coast)
Thank you for visiting the Videobotics.com JLCooper Products Web Page - Come Back Soon!