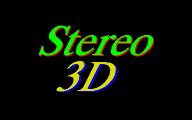 MegageM 3D Video Tape Catalog - General Viewing
Note that, unfortunately, many previously available 'Hollywood movies' (Frankenstein, etc.) tapes are no longer available. Some of the new titles we don't have much information except title and general type of material, but we hope to post more information soon and are happy to have new listings on offer.


WE REGRET THAT ALL TITLES ARE CURRENTLY UNAVAILABLE
PLEASE CHECK BACK IN THE COMING MONTHS
WE HOPE TO HAVE TITLES AVAILABLE IN THE FUTURE
WE DO HAVE SOME INTERESTING 3D PRODUCTION GEAR FOR SALE - CALL


---

Updated 10/14/02

---

These tapes are intended for use with our AmiVR 3D liquid crystal shutter-glasses viewing systems and they also work with Virtual V/IO glasses and some other systems. For more information on our AmiVR 3D viewing systems for video and Amiga computers, please check out our AmiVR Web Page.

---


Title                   Date/Rating  Length	     	Description


Miscellaneous, Computer Graphics, Technology, and Fun

Stereo GFX Vol 1,2,3 1991 G 25 min ea Fantastic computer graphic shorts - Amiga to Cray World of 3D Vol 1 1989 G 65 min Robots, outer space, movie trailers, Lilly Tomlin, etc. World of 3D Vol 2 1990 G 60 min Vincent Price, 3D slides, karate, movie trailers, microworlds World of 3D Vol 3 1990 G 72 min Rock'n'roll, rollercoasters, animations World of 3D Vol 4 1990 G 78 min Thailand, Japan, Expo90, graphics, hummingbirds World of 3D Vol 5 1990 G 84 min Lions, chimps, 3D news, Bill & Coo, Expo 90, Mars World of 3D Vol 6 1990 G 80 min Rock videos, Expo90, rare 3D movies, cyberspace Hi Tech in 3D V1,2 1991 G 120 min NAB 91 exhibits, HDTV, 3 different 3D systems, etc. Stereo Medicine 3D V1-3 1992 G 90 min ea Hi tech for medicine 3D TV Tech Vol 1,2,3,4 1991 G 80 min ea Rarely seen 3D video equipment demos Virtual Worlds V1-6 1991- G 100 min Virtual Reality conference exhibits from advanced VR labs! 3D Magic V1,2 1991 G 80 min ea Best demo selections from various (formerly offered as 'Outrageous 3D') Animal World in 3D 1991 G 80 min Out The Window in 3D 1997 G 35 min All new computer animation in 3D 3D Computer Animation V1-6 About 30min/ea 3D Teasers V1-3 Excerpts from 3D films Rare 3D Movies V1-6 Six volumes of shorts 3D Movie Trailers V1-2 Movie trailer bits Hi Tech Video 3D Video Art by Al Razzutis Kyoto in 3D 1990 G 60 min Major Japanese tourist attractions, temples, palaces, etc. Thailand in 3D V1,2 1990 G 65 min ea Art, temples, people of Asia's most popular stop California in 3D 1991 G 90 min Hi-tech parks, Christmas, psychics ... Las Vegas in 3D 1991 G 70 min Stars, shows, casinos, the famous Strip Mars in 3D 1980 G 35 min 3D Mars stills (b/w), 3D Viking lander motion footage (color) Cyberthon in 3D 1990 G 80 min Virtual Reality fest - inside Cyberspace helmets - a VR must! Expo90 in 3D V1,2,3,4 1990 G 35 min ea Japan Expo, biotech, robots, etc. Expo92 in 3D V1,2,3,4 1992 G Christmas in 3D 1991 G 90 min Christmas songs, dances, and decorations Mountain Fair Festival of the Lake Pleasure Faire Whole Life Expo Blowing Rocks Preserve Escape Hot Air Balloons Iguassu Falls (world's largest and most spectacular waterfall at Brazil/Argentina border) Hideous Mutant 1976 PG 75 min Giant ape attacks Asia - great 3D and Asian scenery The Zoo No More Jokes 1984 G 70 minutes Sitting on a Golden Porch 1986 G 70 minutes Broom and Black Hat 1987 G 70 minutes Kidnapping of the Century 1981 G 70 minutes

Western, Action, Oriental Kung-Fu, and Drama Films

Outlaw Territory 1953 G 90 min Surrealistic Western. Restored from only 3D print. Empire 1986 PG 90 min Japanese costumes - fast action, best 3D effects on film! Warlord Chinese Kung-fu action - great 3D Revenge Chinese Kung-fu action - great 3D

2D Movie Conversions to 3D

Rage at Dawn Sherlock Holmes and the Secret Weapon Goliath and the Vampires Ivan the Terrible Part 1 The Thief of Baghdad The Gene Krupa Story Hercules & the Princess of Troy Swordsman 2 Electronic Monster Dixiana Voyage to the Prehistoric Planet

Adult R and X-Rated (21 and over ONLY - call for information)

---

Ordering Information
For credit card orders, phone MegageM at 805 349 1104 (California time zone, 10AM to 5PM, M-F).
Prices are for NTSC VHS - (PAL Available On Special Order - Allow 2-6 Weeks) add $15 for Beta or 8mm add $20 for SVHS or Hi8 (call on Hi8).
ALL tapes returnable ONLY if defective and ONLY for same title.
ADD 7.75% tax for all orders shipped to California.
Shipping: $6.00 for 1, $2.00 each additional tape (Priority Mail in North America) $38.00 for 1, $5.00 each additional tape (outside North America, air post)
Allow 4 - 8 weeks for delivery.

---
More 3D Content is in Progress!
MegageM is working on more 3D tapes and a CDROM of 3D imagery. We've been doing extensive 3D animation rendering with LightWave. We'll update this page as soon as more information is available.
---
Thank you for visiting the MegageM Stereoscopic 3D Video Web Page!
Come back soon... we'll be adding even more information!

<<-- Back to MegageM Home Page