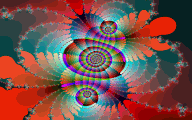 Welcome to MegageM's Fractal Products Page

FractalPro 'The Movie' Video Tape
NEW! NOW AVAILABLE ON DVD!
Our DVD version is encoded at the highest possible MPEG2 quality and looks great.
FractalPro - The Movie is a 38-minute video of the most amazing fractal animations ever produced. It is accompanied by a terrific soundtrack as well. Created entirely with Amigas and Amiga-related products, 'The Movie' takes you on a visual voyage into the infinite - zooms, cascades, flyovers, and more! There are many kinds of fractals and coloring /rendering schemes for a continuously changing viewing experience. Animations were created with our FractalPro, as well as VistaPro, and LightWave. Over two years in the making, FractalPro 'The Movie' will knock your socks right off! Available in NTSC VHS and DVD for only $49.95.
Download a 23-second MPEG excerpt of the video!
---
VideoGems has over 60 NEW Video Toaster/Flyer FX (35 of which were created directly from FractalPro images!), 36 NEW Toaster CG ColorFonts (texture-mapped with FractalPro images!), dozens of FractalPro-generated Framestores and images, and LightWave objects of fractal objects (like the Mandelbrot Set and more - made with FractalPro!) If you have a NewTek Flyer, a Toaster with the new Toaster 4.x software, or you use LightWave on ANY platform, VideoGems is for YOU. Only $99.95.
---
The FractalPro Image Library CDROM
The FractalPro Image Library
---
Downloadable full-size FractalPro images!
Latest FractalPro Image Of The Week - from the FractalPro Image Library CDROM
and a previous HIT FractalPro Image of the Week...
---
Thank You for visiting the MegageM Digital Media Fractal Products Page - Come Back Soon!